The Author
Karen Cram is a seventy years young dreamer who lives on a farm in Mid-Michigan with her three cats, eleven chickens, and lots of field mice.
When she isn't writing or working on the farm, she enjoys crocheting, sewing, gardening, and creating pottery. She says that the time she spends with her family, friends, and pets are the highlight of her day.
Karen feels that writing this series of books is fulfilling a lifelong dream of making a difference in the world by educating children about the emotional harm of bullying.
I'd like to dedicate these books to Jerry Cram, in memory of the many adventures we shared on the farm with our pets and the surrounding wildlife.
The Illustrator
Greta Berg was born and raised in the Upper Peninsula of Michigan, where she learned to layer her clothing, shovel snow,  and cheer for the Detroit Tigers. She graduated from Northern Michigan University with a degree in graphic communications and has illustrated several books, including this series.
Greta enjoys hiking, sci-fi, and teaching her dog, Henry, the joys of agility. She currently lives in the South where she still dresses in layers, but only when she visits her grocer's freezer.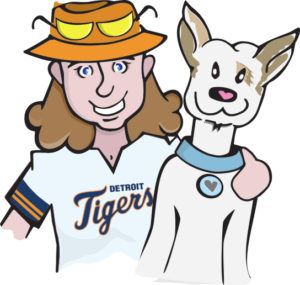 I would like to dedicate this work to my mother, Marta, who taught me, at a very young age, not to take life or myself too seriously. Thanks mom!